Zoo photographs - Kolmården 2000
Kolmården zoo, Sweden. July 2000. Kolmården zoo homepage
(Click images to see them in full size.)
Female cub with her dam. This is my all time favourite tiger-photograph :-)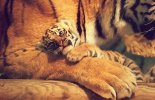 Other tiger-photos. Last picture on second row: All 6 adult tigers which were in Kolmården zoo at July 2000, one female and five males.
More tigers: Korkeasaari, Kolmården 2002, Barcelona 2000
White tigers: Eskilstuna 2002
One month old female tiger cub called Newa.
2 less than three weeks old male tiger cubs called Atman and Ashutosh.
Lions in Safaripark. Cub, female and male.
More lions: Korkeasaari, Shanghai 2006, Barcelona 2000
Other animals.
More polar bears: Ranua 2003, Kolmården 2002
More dolphins: Kolmården 2002
More Kolmården-photographs: 1998, 2002
---

Back to "Zoo"-page

Back to "Photographs"-page
---