Zoo photographs - Barcelona 2000
Barcelona zoo, Spain. December 2000. Barcelona zoo homepage
(Click images to see them in full size.)
Only white gorilla in the world, called Snowflake (Copito de Nieve). Mating with black gorilla in second picture.
There's also other white animals in Barcelona Zoo, here is white peacock.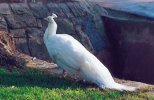 Sumatran tigers. I don't know what is going on in picture number 2 but number 3 is quite clear ;-)
More tigers: Korkeasaari, Kolmården 2000, 2002
White tigers: Eskilstuna 2002
Lions. Like tigers, lions also had quite big but rocky area where they were living.
More lions: Korkeasaari, Shanghai 2006, Kolmården 2000
Cheetah. Really beautiful animal! When looking that body, it's no wonder that it can run faster than 100 km/h.
More cheetahs: Eskilstuna 2002
Other big cats (snow leopard, cougar, black panther, lynx and jaguar). Unlike tigers, lions and cheetah, these cats had quite small cages :-(
More snow leopards and lynxes: Korkeasaari
More black panthers: Eskilstuna 2002
More lynxes: Ähtäri 2001, 2002
Elephant and domestic cat :-) (This photo was also published in Lemmikki-magazine.)

Other animals.
---

Back to "Zoo"-page

Back to "Photographs"-page
---